While still on the benches of the Formation continue in Ecole Nationale Supérieure du Paysage de Versailles, we had a mad desire two of my colleagues and myself: to file a project file to the famous / unattainable / phantasmagoric Garden festival of Chaumont-sur-Loire.
Grail for recognized or emerging landscapers, this annual festival offers 26 temporary gardens on an imposed theme and a plot shaped tulip tree leaf (designed by the Belgian landscape architect Jacques Wirtz).
The Garden Festival of Chaumont-sur-Loire represents six months of public exposure, an envelope of 12000 euros at the time to do the garden, and a big contest to get in since the organizers receive more than 450 files while only 26 are chosen.
We knew 20 times more people who were said "no" to  than landscape designers who were chosen.
Yet we went, the flower with the rifle. Very optimistic. And have started thinking on a garden project to submit to them.
The theme for 2007 was "Play in the Garden".
Very inspired by Alice in Wonderland, we imagined a garden in which we fell, more than we entered quietly. This resulted in a huge double slide by which visitors came down (in pairs) to arrive in the garden. Then we wanted to exploit the pretense and the dream. We therefore included face-to-face mirrors that reproduced the image of landing in the garden to infinity. Then we added surreal elements, such as a caged bird of paradise, mosaics encrusted in tree trunks, sky stools and waterfalls.
All presented in a folder in the form of children's book, with homemade pop-up.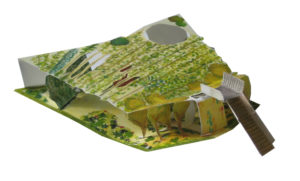 And we were chosen!!
The garden was planted (his title "Did you say Pig or Fig" is a line of Cheshire Cat), and we learned a thousand things that year. Wonderful experience, design, implementation and gain of confidence. The creativity released for the Chaumont-sur-Loire festival has never left me!